We've often talked on this blog about how we are big promoters of "open" systems. That's why we included an application programming interface in our 2nd Generation control package, and why we were very excited that a third party developer released an iOS app that works with our 2nd Gen. controls. It will come as no surprise, then, that we're once again excited to share a new independent whole house fan app, Cool Off.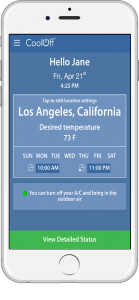 Cool Off helps homeowners get the most out of their whole house fans (both AirScape and other manufacturers) by automatically notifying them whenever the temperature outdoors drops below their desired indoor temperature. This, as I'm sure you've already figured out, allows you to know exactly when and when not to run your fan.
Unlike AirScape's own Temperature Sensor Package, Cool Off doesn't use an external temperature sensor to gauge the outdoor temperature. Instead, the homeowner enters their location into the app and it finds the temperature using readings from Weather Underground's network of weather stations. Accessing this network has some great benefits:
Users can use both actual and "apparent" temperature settings, which is a very nice option in more humid climates. "Apparent" temperature readings take humidity into account in order to provide a measure of how hot it feels like outside, as opposed to what a thermometer says it is. Air feels increasingly hot as humidity rises—in a humid climate, air conditioning removes humidity from the indoor air, making it feel cooler than humid outdoor air even when it actually isn't.
Furthermore, thanks to Weather Underground's forecasting, Cool Off can estimate the time of day you'll be able to switch from A/C to your whole house fan. This is subtly useful. If, for example, it is too hot to run the fan at the moment, but will be cool enough soon, you might want to turn off your A/C now, endure the heat for a short spell, and save a little money. Likewise, if it won't be cool enough to run the fan until the early hours of the morning (which could easily be the case during a heat wave), you'll want to know, so you can turn on your A/C early and not lose any sleep.
It is important to note Cool Off cannot directly control either our fans or those of any manufacturer. That said, we are very happy its developers have published it. Our new Digital Touch Controls, now shipping standard with every AirScape fan, are not compatible with our own Temperature Sensor Package, which can only be used the 2nd Gen. controls. If a homeowner would like to easily gauge the outdoor temperature, without upgrading their controls, Cool Off is an excellent way to do so.
To learn more about Cool Off, visit their website at www.cooloffapp.com. If you check out their site, you'll also learn that the app is available in versions for both iOS and Android operating systems, and will work on both smartphones and tablets in either ecosystem. You can download Cool Off on the App Store or Google Play.