UPDATE: The controls referenced below are currently only available as an upgrade on Sierra units. For more information please call us at 866.448.4187.
Our app for iPhone® and iPad® is now available from the App Store. We released our app for Android devices about a year ago, and are incredibly excited to offer the same great functionality to our customers with Apple® devices.
With this FREE app, homeowners with AirScape whole house fans can: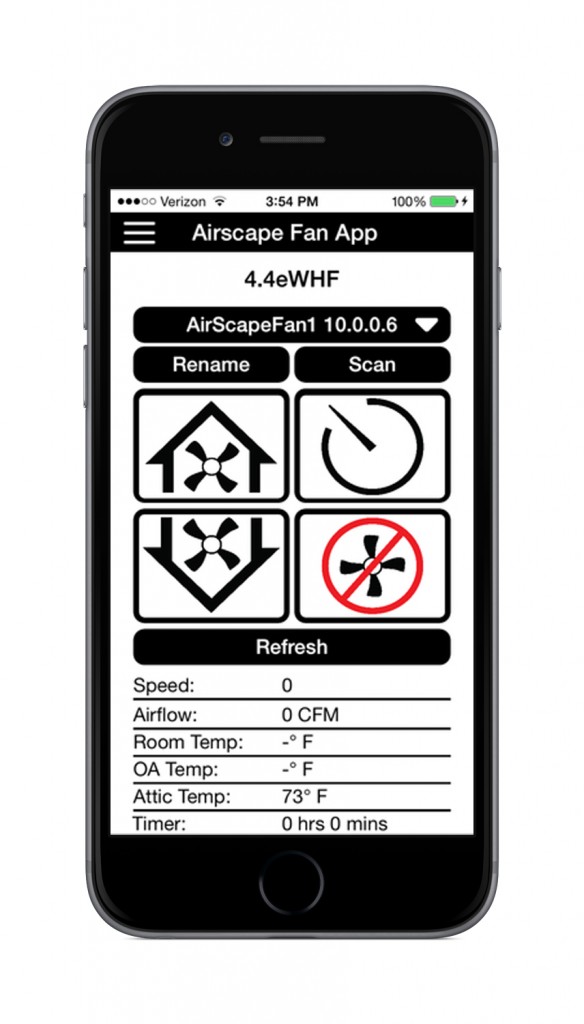 Scan their network to find all AirScape whole house fans connected to it;
Assign custom names to each fan on the network for easy identification;
Control a connected fan through the app's interface, which is identical to that on our wall switches and wireless remotes; and,
View a fan's status, indoor and attic temperatures, as well as any SafeSpeed™ notifications if this accessory has been installed.
To operate a fan using this app, both your fan and iPhone or iPad need to be connected to the same local area network ("LAN")—your fan using a CAT-5 cable between its control box and your router, and your iPhone or iPad using Wi-Fi. For safety purposes this app cannot operate fans over the internet or your cellular network. If, for example, you've got access to the internet using your local coffee shop's network or your phone's 3G/4G service, our app will not be able to connect to your home's fan.
Fans that are not connected to a network cannot be controlled using this app. Also, this app is compatible with only AirScape whole house fans with 2nd generation controls (sold 2013 to present).