The concept of sustainable living, or sustainability has wide appeal. It's hard to argue with the idea that if you think of natural resources and energy as a bank account,  we should not be overdrawn.
If you do it right, and it's a tall order, you could model the "real" costs of resource extraction.  Our simplistic economic models increase the Gross Domestic Product when a tree is cut down, or oil is burnt.  Basic accounting practices would at least require us to decrease the amount in our natural resource account.
Let's table that thought. Onto the rant du jour.  Our local food co-op has the following announcement:
——————————local Co-op announcement——————————————–
FRIDAY also means PORT ORFORD Hook and Line Caught Fish are here.Port Orford fisherman also dropped off some sea water! We're going to make our own "Port Orford Sea Salt" for Eat Local Week!
—————————————–\\——————————————————————
Isn't that great?  Well, of course not! Otherwise this would not be a rant.
How do you make your own salt?  Evaporate the water.  Great. With what energy?  Electricity as it turns out.
Let's do some calculations …
| | | |
| --- | --- | --- |
| Percent salt in seawater (by mass) | 3.50% | |
| Energy to evaporate 1 kg water | 2,257,000 | joules |
| Efficiency of Evaporation* | 60.00% | |
| Energy to recover 1 kg salt=> | 107,476,190 | joules |
| Convert to=> | 29.85 | kWh |
| pounds of CO2 per kWh | 1.35 | source: DOE |
| pounds of CO2 produced per 1 kg salt=> | 40.3 | |
| * Engineering Estimate | | |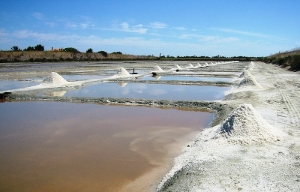 Bottom line. You made your own salt. If you had purchased standard packaged salt, it would most likely have been harvested using solar energy, and energy efficient vacuum evaporation process (see http://www.cargill.com/static/sb/tour.htm).
Perhaps this adventure falls into the self-contained, but not sustainable category.